SEARCH ENGINE OPTIMIZATION
Types of Search Engine Optimization (SEO) Services
In Local SEO, we strive to get your site on top results in search engines for all the local searches against your brand.
It can be achieved through: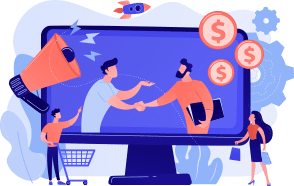 Global / International SEO
In Global SEO, we aim to target global market for your brand and increase its visibility worldwide. When relevant keywords are searched, your site will show in top results throughout the world.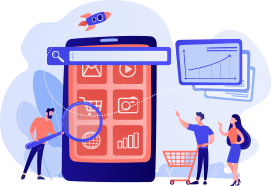 E-Commerce SEO is practiced on businesses that run ecommerce websites and helps grow their ROI by online purchases through search engines. It can be local or global based and depends on: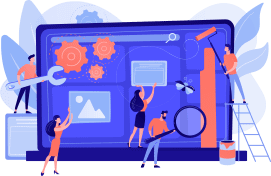 Technical SEO refers to improving the technical aspects (website and server optimizations) to increase its organic rankings in search engines. Making a website faster, easier to crawl and understandable for search engines are main aspects of technical optimizations.
It can be achieved through:
It is the process of closely examining a website through its data to gain insights on how well the site has been optimized and which factors needs to be addressed. These analytics can be used to improve your site's SEO.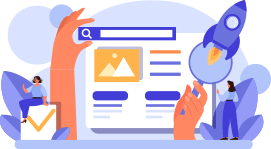 Mobile SEO is the process of optimizing your website for users on smartphones and tablets. It includes making your site more accessible to users searching from mobilephones. Around 58% searches on google are done through mobile devices and 76% consumers consider shopping online from their smartphones.
Website Audit and Analysis
On-page SEO is all about optimizing internal elements of your website pages to make them search engine friendly. When search engines understand your website better, your website ranks on top of other similar sites.
Off-page SEO is another crucial method in your site's SEO. Off-page includes mainly link building through various techniques in order to rank your website on top of search engines and increase traffic. Our link-building techniques are safe and white hat as mentioned in Google guidelines.
Our SEO Services Process:
Phase 1: Deep Analysis & Research
We will do a deep website analysis to check what is your current SEO score and how we can improve it.
We will check what your competitors are doing and how you can achieve more success.
We have an eye for every market and how things are operating, what people like and why. We know their pain points.
Before we start, we will check your past traffic records (monthly, quarterly, yearly) , your initial traffic coming on your site, especially the organic one and your rankings.
By checking which keywords are most suitable for your business and what people are most searching for, we see a trend that we will follow to help you grow.
Phase 2: Strategy & Goal Development
Before we start our work, we will have an extensive talk about the strategies that we can implement to help you grow. This will be based on our past experience with other clients similar to your business model.
After choosing which strategy will fit best for your brand, TDM will implement it in best possible way and will give you clear insights on it.
Only strategy-making is not the key, if you are not monitoring its results about how successful its impact was, you will be left aside of the competition. We will do all this stuff for you.
These strategies and tactics are all based on your business model and customized tailored for you.
Your success is our success. We will choose the goals that are right for your business needs so that you get the maximum exposure.
Phase 3: Setup & Optimization
Creates Profiles & Accounts
First step involved in marketing is to make different accounts and pages etc. Later on we have to maintain, manage and optimize them with time.
Business listings (Local Targeting)
If you are doing local business and want people to come to your physical store, we will create multiple local business listings for you which include Google listings, Yelp, BBB and others.
Site structure and hierarchy play a very important role in making the search engines read your site. A well developed site can gain better place much faster than its competitors. We will work on all these factors for you.
You cannot achieve good rankings in SERPs without Off Pgae SEO. It is like the soul in a body. It covers backlinking, directory submissions, classified ads, blog postings, web 2.0, press releases, social bookmarking etc. These rankings will be permanent and won't come down soon. TDM will take over all of your dirty work and gives you and your site the best presence on the web.
Phase 4: Working and Monitoring
Our team has extraordinary content writers who will write content for your business in the best suitable way. This can be customized content based on your preferences or a content from our own.
Blog posting and articles submission is necessary for the off page of site. It helps our site to backlink to other sites and generate referral traffic. These visitors will become your upcoming customers.
Quality Backlinks Creation
Backlinks have to be put in a very organized way such that only relevant websites link back to your brand giving you a boost to rise on top of SERPs. With our experience, we know which sites to avoid and which ones to connect to.
Monitor Traffic & Rankings
We will closely monitor your site's traffic. How much daily, weekly and monthly traffic your site is generating gives us the insights on whether we are on right track or not. If we do this correctly, we expect to gain more visitors.
After all the hard work, to maintain your SEO positions, we will regularly check and maintain these rankings so that we can achieve our goals collectively.
Phase 5: Testing & Reporting
Testing new marketing strategies
We might have to introduce you some new marketing strategies instead of your old ones at some point, if old ones fail us. But of course these cannot be gone unaccounted for, so we will report them back to you.
Checking positions on SERPs
Checking your positions and knowing that your brand is performing well is how we will win this game. This will be done on week to week basis.
Examine from multiple locations
We check your listings on SERPs not only from a single location but from all across the web. We have different ways to check your position on different regions across the world.
Analytics & Tracking Sales
We check all your visitors, sales and ROI through different analytics softwares like Google analytics and see if you are getting what you need.
After each month, TDM Agency will provide you with full insights of detailed reporting on how your website performed in this time period, what rank was it before and what it has now.
Being the industry leaders, we offer free consultation to our clients for better understanding of their business models and current problems in the way. After we receive a free consultation inquiry, we gather our marketing team to work on how we can transform your business and suggest what works best for you.